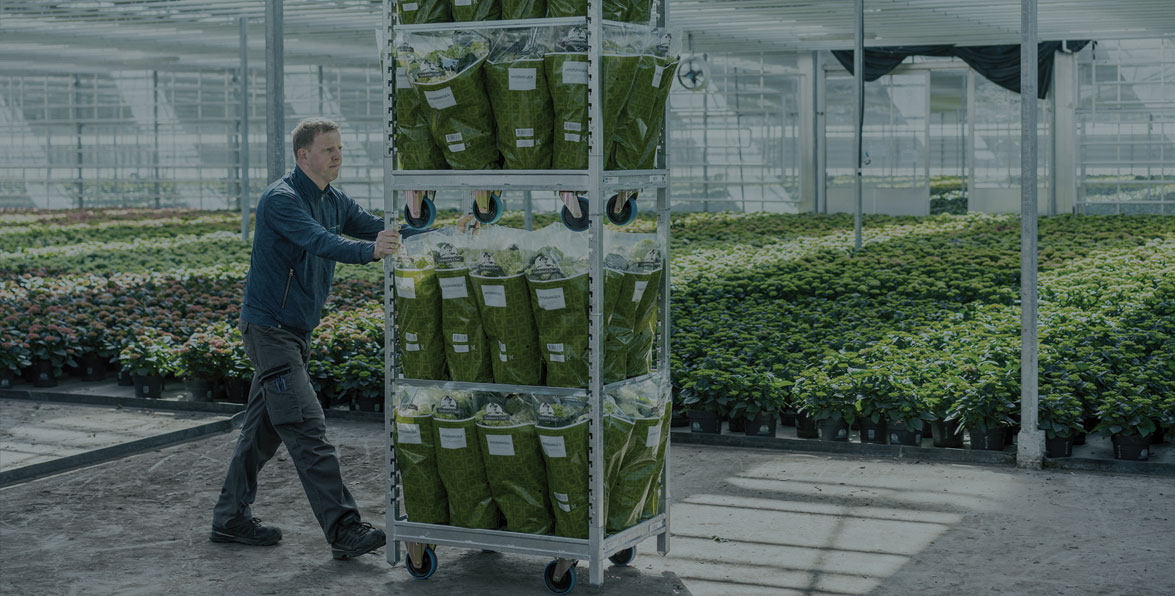 The desire to produce and transport flowers and plants in a more sustainable way is the motivation behind one of the leading market participants to test the new UNI-TROLL trolleys.
With around 3,000 member companies, German producer cooperative Landgard delivers top quality flowers, plants, fruit and vegetables in Germany and the rest of Europe every day. Landgard is the link between producers and the retail industry, hence the interest in trolleys, which add value to the entire supply chain.
Trolleys from UNI-TROLL EUROPE, which Landgard has recently tested, can do just that.
"To test all the functionalities of the UNI-TROLL solution in practice, we tested it throughout the value chain from production to distributors to the sales department of our Cash & Carry stores," says Detlef Rix, Head of Ladungsträger-Logistik at Landgard.
The practical test was performed in close collaboration with UNI-TROLL EUROPE, haulier Alex Andersen Ølund A/S and the Queen A/S and Rosa Danica A/S nurseries.
"Our M2 and M3 trolleys have been developed with the aim of creating value at every level, from manufacturer to retailer. So, we've been looking forward to the test," says Erling Mogensen, R&D manager at UNI-TROLL EUROPE.
Desire to find new solutions
As market leader, Landgard is interested in developing and improving solutions, and finding innovative and sustainable, new solutions for the nursery industry.
The objective of the pilot project was to test UNI-TROLL M2. "What remains for us to do now is to compile, register and finally evaluate the impact on the day-to-day operations and the effects of the solution," says Johannes Kronenberg, Managing Director of Landgard Blumen & Pflanzen GmbH.
Good for the environment and the bottom line
"We see great potential for a climate-friendly solution in using the same trolleys from the producer, in the lorries and all the way out to the stores," says Søren Bøgede Andersen, CEO of UNI-TROLL EUROPE.
UNI-TROLL EUROPE has a vision of a pan-European, up-to-date standardisation of the basic module in the nursery industry, which paves the way for automation in an economical and sustainable way and thus an improved working environment and cheaper logistics.
"We all have to do our bit when it comes to implementing sustainable solutions," says Søren Bøgede Andersen.
But he is also aware that a supply chain cannot be developed alone.
"Our vision is a sustainable pool concept with several models of trolleys that can be used by everyone throughout the value chain. This will improve the working environment and be more cost-effective and more sustainable. That is why this test by Landgard is such an important milestone," he explains.