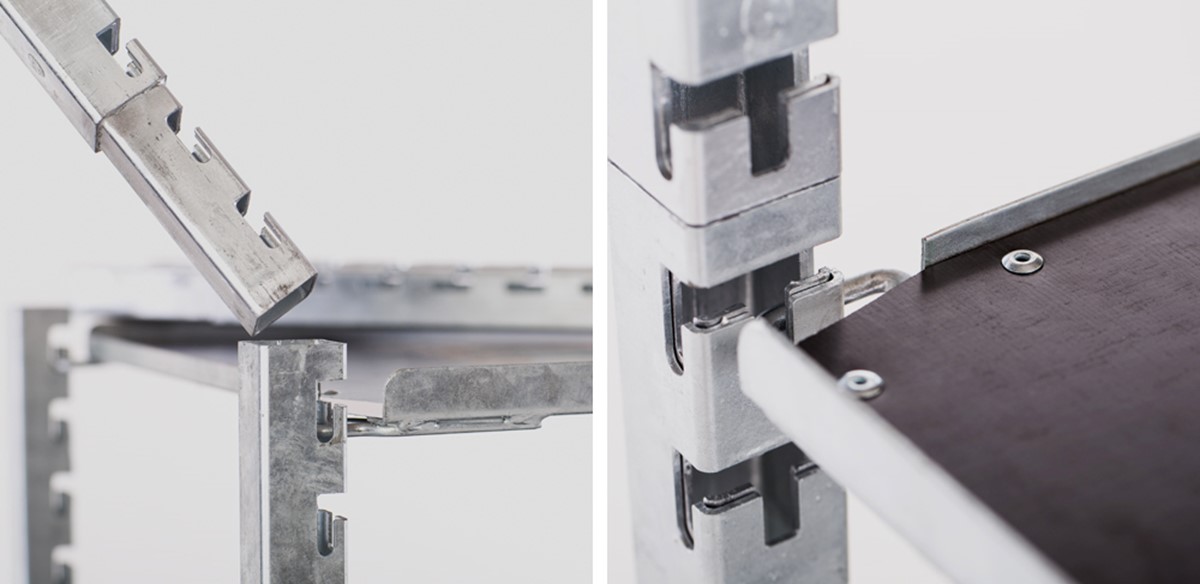 UNIQUE design. Simply easy to use.
The thoughtful and unique design of UNI-TROLL trolleys is the result of intensive product development and many years' experience in the field of material know-how, pool management and handling of other kinds of trolley systems.
From the first draft the goal has been to design a sustainable, durable and universal modular trolley with an associated pool solution that provides universal added value in all links of the supply chain. Hence the slogan UNIQUE – UNITED – UNIVERSAL.
UNI-TROLL trolleys have removable split posts which means that the height can be adapted to different needs. The posts are easy to remove and assemble by hand or machine, saving time and money and improving occupational health and safety.
Flexible shelves
The shelves can easily be inserted into the desired heights manually or automatically, with or without goods on, thanks to the patented hooks and the access holes of the posts. The interaction between the hooks and posts makes it easy to move the shelves up or down, since they are inserted from the side. Using a simple tool, the shelves are also easy to angle to improve product display. Machines that make it even easier to insert and remove the shelves have already been designed and can be used without problems by businesses that handle a larger number of trolleys daily.
The plastic shelves' patented hooks with shock absorption ensure that the load-bearing hooks do not bend if, for example, the trolley hits the floor hard. This helps keep maintenance costs at a minimum.
Smooth and secure handling
The split posts are stored safely in the base frame. The volume of the folded trolleys is thereby reduced to a minimum, enabling secure and smooth physical handling. This is a great advantage during transport or storage.
Our trolleys come prepared for different types of customer-specific add-ons such as a brake or transport with a conveyor, electric truck or forklift. Our concept is that the trolley is universal but should suit the individual's value chain.
UNI-TROLL's products are well protected against copying. The intellectual property rights are independent of the geometry, which allows for continuous development of the trolleys in different measurements depending on customer needs. The IPRs are a protection against copying (and thus the physical and economic reduction of pool benefits), as well as a promise to our clients that we will develop the concept on an ongoing basis to meet market demands.