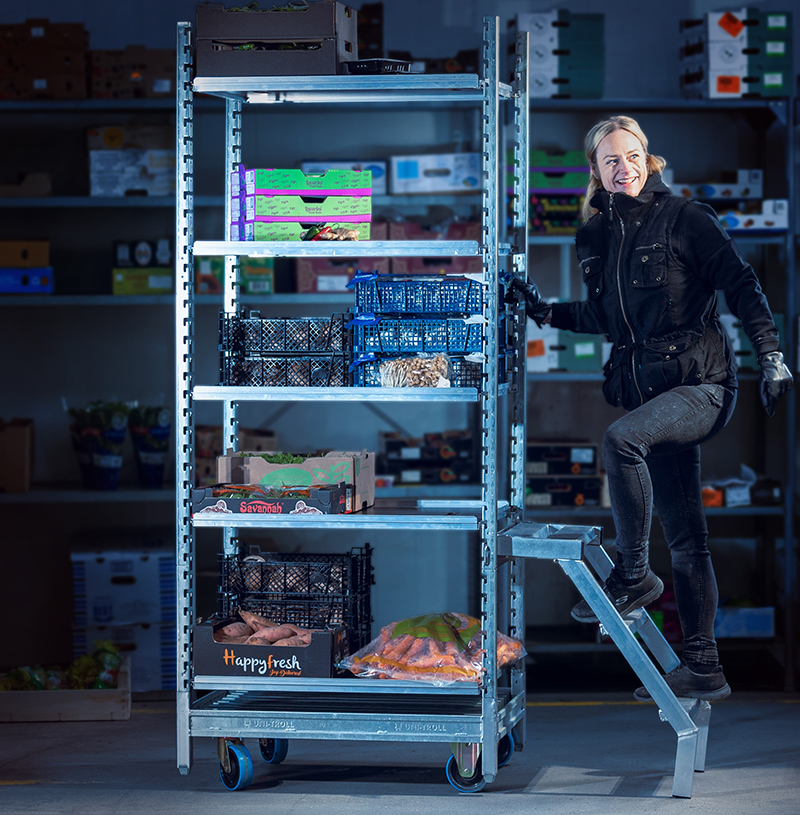 UNIVERSAL TOOL IN SUPPLY CHAINS
UNI-TROLL's strength is that our trolleys are universal. Nevertheless, we know that we have to be able to respond to different companies' different needs and requests for details which can make a big difference for them in their daily operations.
All UNI-TROLL trolleys come prepared for various types of customer-specific add-ons:
UT-Lifting Brake
The UT Lifting Brake type TRT160 is a standard strong lifting brake mounted under every base frame, as they are prepared for it, and the special bolting method makes it remarkably simple to add. It's a good feature to ensure trolleys are not running away during loading and unloading from a truck or by placement at sloped areas. Specification is available.
UT-Step Ladder
Potential use of the trolley for pick&pack by e-trade or distribution of goods in a store and have asked for a feature called a UT-Ladder. It's a 3-step 660 mm high self-lifting ladder. Easy to add and remove.
UT-M2 Parcel Bag
The UT-M2 Parcel Bag is useful for parcel transport and transportation of special items and for grading of any waste and goods in any situation. Must be used with at least one shelf on the top of the trolley. An ideal combination to the shelf concept for e.g. orderly collection and distribution of parcels and for city distribution. Specification is available.
UT-M2 Shelf Cart
A special UT-M2 Shelf Cart is developed by one of our many cooperation partners for use with AMR e.g. MIR or OTTO for organized automatic internal transport. UT supply with a UT-M2 Cart Kit for users, which need extra shelves in the height. The combination with "normal" UT-trolleys gives extended flexibility and new options for the user. Specification is available.
UT-M2 VF
The UT-M2 VF (Vertical Farm Rack) is a LED-light equipped for growing or exposure unit at a standard UT-M2 Base Frame with 4 pcs. of the PPGF plastic shelves equipped with an added very slim patented construction. This includes 12 LED spots at each shelf. The four shelves are controlled by a 240 Volt Power Supply unit. A special brochure is available.